Who is this course for?

When developing this course I had both private and classroom music teachers in mind. Regardless of your teaching environment or background, activating the brain and engaging students is a topic that we all could use some help with. Most, if not all the ideas, thoughts, information, tips and tricks can be adapted to your teaching situation. With 4 hours of video content and lots of bonuses there is sure to be something for everyone.
What is the course about?
Have you ever had a student say to you, "I never learned that!" when you know for a fact that you have taught the concept over a dozen times? There is actually a reason for that and it has to do with the brain! We will kick off this course in how to activate the brain so students will remember what they are being taught.
Learning is much more than inputting and outputting information. How do we really know when a student is engaged in learning? Engaged learning is the process in which students actively participate in their learning. Our job as teachers is to serve as a coach or facilitator to help guide students towards their goal.
Topics in this course will include but not limited to identifying and assessing learning styles and how they apply to our students, understanding how the ear, eye, hand and mind play an important role in the music learning cycle, understanding emotions and how to influence motivation, building confidence and promote competence in our students and learn how to apply practical tools to engage learning in their individual teaching studio.
We will explore some basic teaching methods that can help engage our students plus I will be going through the basic characteristics of each age group that we teach. Engaging preschoolers is going to be very different than engaging a pre-teen student, for example. It's important to understand our students where they are currently. In addition I will go through some teaching styles, strategies and techniques. Some of which you may be doing, others you may like to try.
This course will conclude with well over 30 specific activities and resources you can use with your students to check for understanding and create a more engaged learning environment in your studio or classroom.
"No matter how well planned, how interesting, stimulating, colorful, or relevant the lesson, if the teacher does all of the interacting with the material, the teacher's, not the student's brain, will grow." Pat Wolfe
Please join me in this course as I feel that it can inspire, motivate and encourage you to create an environment for engaged learning. See you there!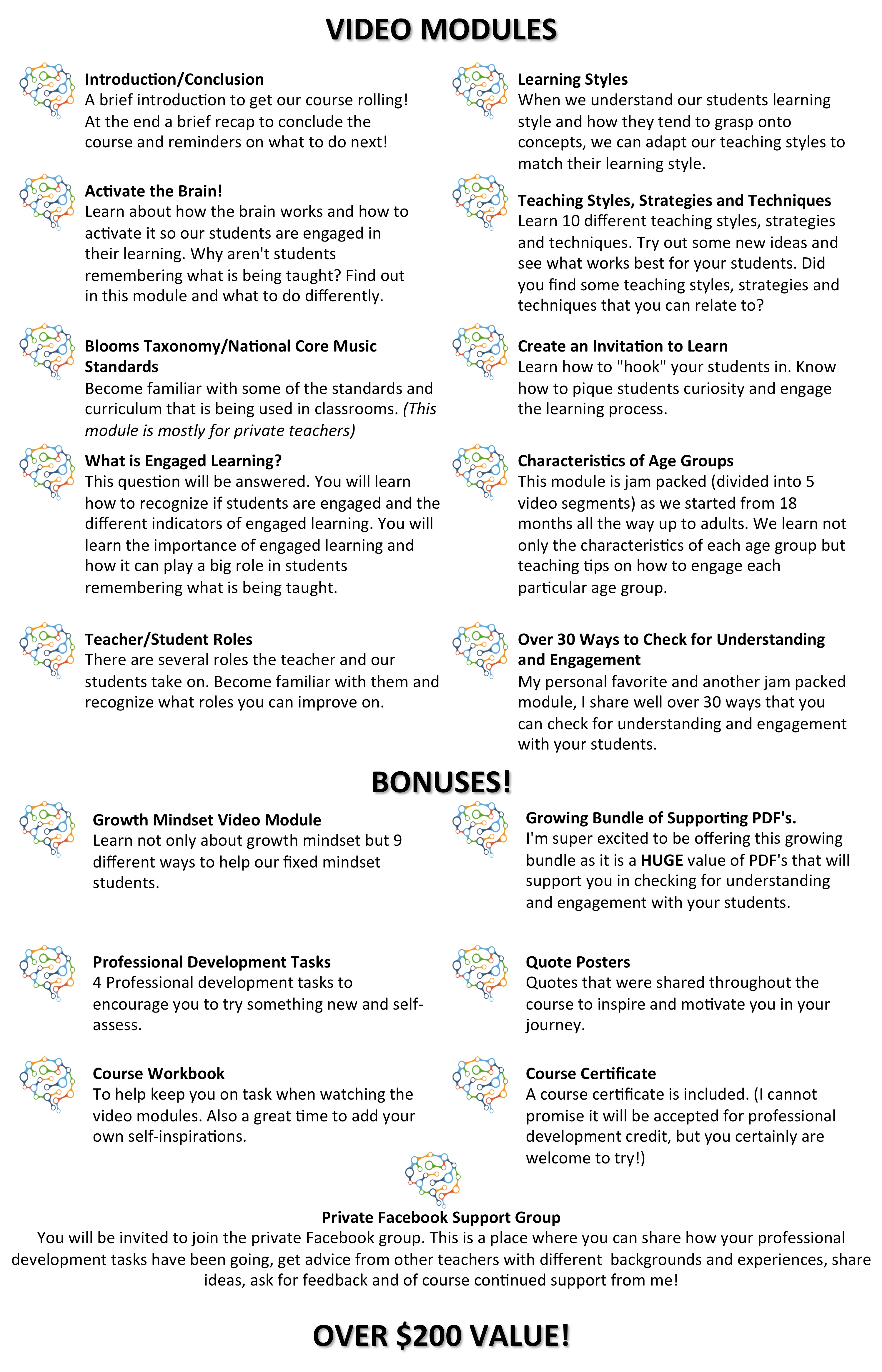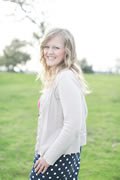 "I love to attend workshops or participate in courses that really make me think. You know, ones where the presenter shares fascinating research or information, and then you have to process it yourself and figure out what to do with that information, or how to apply it to your situation. Sometimes it's also nice to have people who have thought through the information for you and are willing to share how they've implemented it effectively in a variety of scenarios. Well, in her "Activate the Brain!" online course, Jennifer Foxx does both! If you're looking for a way to continue your own education (from the comfort of your home!) and get the "wheels" spinning to come up with new ideas and approaches to try with your students, Activate the Brain would be a great course to take..." Natalie Weber with Music Matters Blog
Read Natalie's full review here.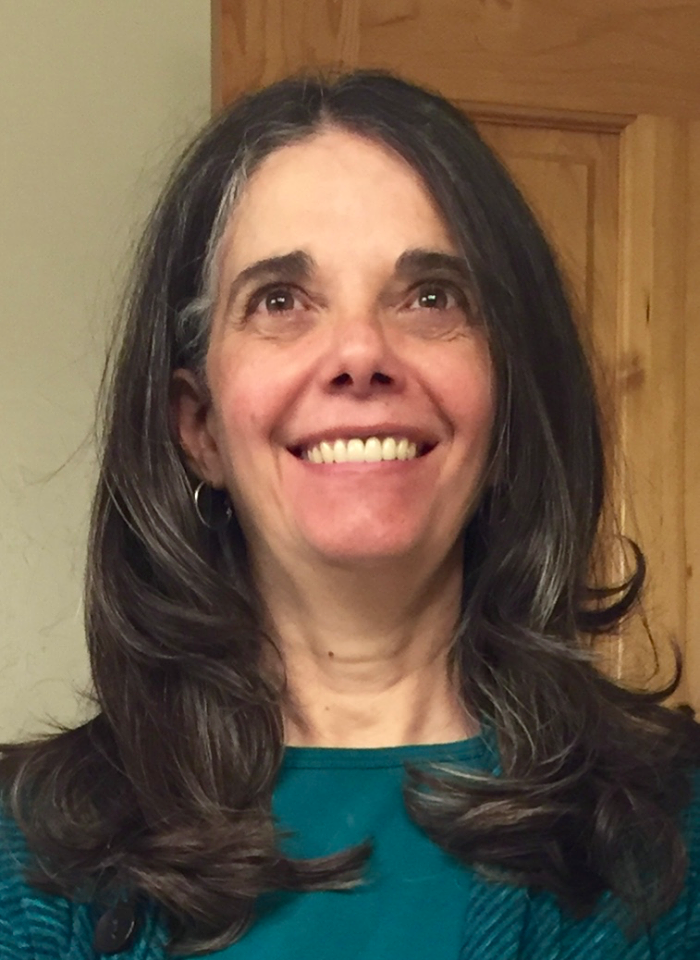 "I loved your presentation on Engaged Learning. I did go to the learning styles assessment as you suggested and found it to be right on when it came to my own learning style. I hope to use this tool with my students in the future to enhance their learning and my teaching. Thank you for giving us a myriad of ideas and tools to help our students best internalize the precious music we present to them every week. Thank you, Jennifer, for sharing your wisdom and experience with us!" Laurie Smith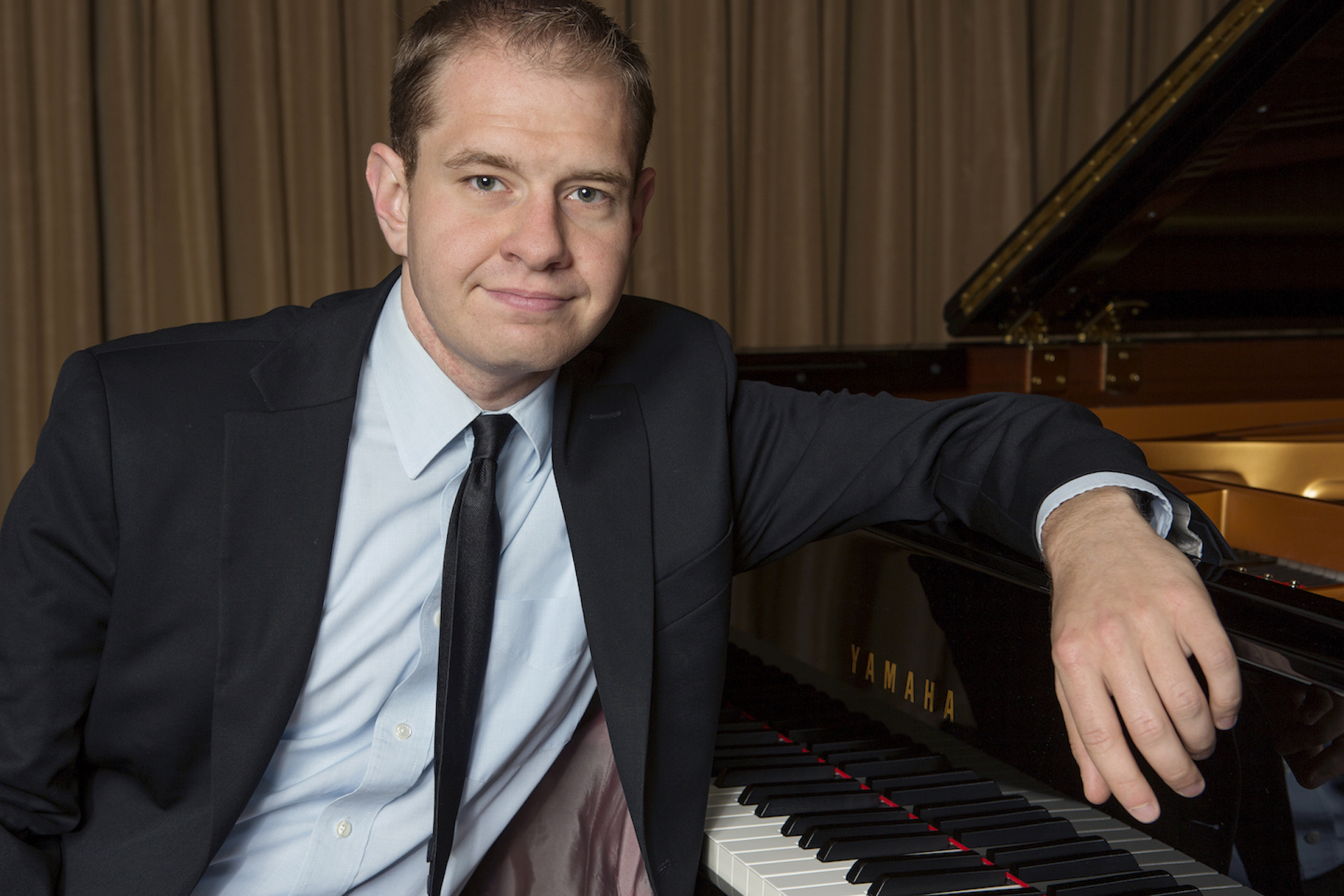 "Your session on Engaged Learning was so great - it left me feeling so positive about teaching." Jeremy Siskind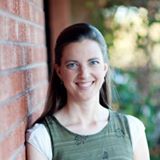 "A great balance of philosophical ideas and practice strategies!" Lynnette Barney
Your Instructor
Jennifer Foxx began her music education at 8 years old when she began taking piano lessons. With almost 30 years of teaching experience, she began teaching piano lessons at age 15, later studying to be an elementary school teacher and then ultimately deciding to teach piano lessons full time.
Jennifer Foxx has over 20 years of experience in speaking and enjoys giving presentations to fellow music teachers, sharing with them her teaching ideas and practices on topics such as technology, business, practicing, motivational programs, group lessons and summer music camps.
Jennifer Foxx has been interviewed on podcasts, The Modern Musician Show, TeachPianoToday.com and TimTopham.com. She has written articles for Clavier Companion magazine, The Piano Bench Magazine, TimTopham.com and has reviewed for the American Music Teacher magazine. Jennifer Foxx is nationally recognized from her teacher resource blog: MusicEducatorResources.com.
Jennifer Foxx has been a member of the Music Teachers National Association since 2000. She has served twice as chapter President; Tooele Chapter (2004-2006) and Phoenix Chapter (2011-2013) as well as other positions as needed.
A piano teacher, blogger, music educational resource and curriculum developer, Jennifer Foxx loves to share music resources, teach and connect with music educators from all around the world.
Helpful Resources for Today's Music Teacher
Disclaimer:
I am not an expert on the brain nor am I a scientist. However I do find the basic knowledge on how the brain functions interesting. I will be sharing what I have learned over the years in my study, but even more importantly, I will be sharing examples of what you can do to help activate your students brains. Most of these examples are from my personal experience from teaching over the years.
Inside the course, I share specific sources that I have learned from, but I will list some of the references below. As always, I encourage you to continue learning from others!
How the Brain Works- Dr. Judy Willis
Captivate, Activate and Invigorate the Students Brain.... John Almarode and Ann Miller
Blooms Taxonomy
National Core Music Standards
The Music Learning Cycle- Valery Lloyd-Watts
The 6's C's of Deep Learning- Michael Fullan Geoff Scott
The Center for Teaching and Learning- UNC Charlotte
"Meaningful, Engaged Learning." North Central Regional Educational Laboratory - Jones, B.G., G.Valdez, J. Nowakowski, and C. Rasumssen.
Frequently Asked Questions
When does the course start and finish?
The course starts now and never ends! It is a completely self-paced online course - you decide when you start and when you finish.
How long do I have access to the course?
How does lifetime access sound? After enrolling, you have unlimited access to this course for as long as you like - across any and all devices you own.
What if I am unhappy with the course?
We would never want you to be unhappy! If you are unsatisfied with your purchase, contact us in the first 30 days and we will give you a full refund.
Terms of Use:
By purchasing this course, you are getting access to copyrighted materials in both video and pdf form. This is a single-license only. Please do not share, copy, or claim as your own. By purchasing this course you are agreeing to these terms.
(C)2014-2017 Jennifer Foxx MusicEducatorResources.com